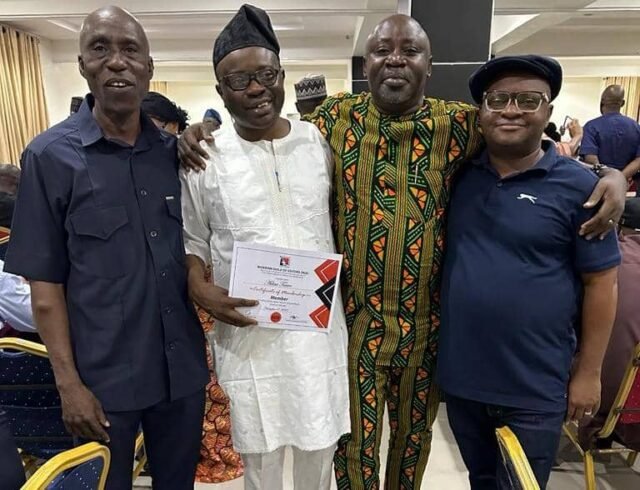 •Yusuf Ali, Martins Oloja 12 Others Inducted As Fellows
There was an effusive pumping of hands and writ-large demonstration of camaraderie, on Friday night, in Uyo, the capital of Akwa Ibom State, as the Nigerian Guild of Editors (NGE) inducted thirty-nine new members into its fold.
The induction, which held during the grand finale of the four-day annual confab of the Guild, also witnessed a gala night attended by about 300 editors cutting across the print, broadcast and online media.
New members who were inducted into the elite Guild included the Publisher and Editor-in-Chief of THE CONCLAVE online newspaper, Mr Sufuyan Ojeifo, Publisher/Editor-in-Chief of Prime Business Africa, Marcel Mbamalu, PhD, General Editor, Tribune newspaper, Mr Taiwo Adisa, Editor-in-Chief of African Dot Com Media, Oyegbile Olayinka, PhD, Editor of THISDAY on Sunday, Mr Davidson Iriekpen, Editor at Saturday Punch , Mr Fabiyi Olusola, and Director of News at Arise TV, Mr Sambo Sumner Shagari.
Others are Augustine Oboh (Independent Newspaper), Duru Emeka Alexius (TheNiche newspaper), Samuel Egburona (News Orient Network), Chuks-Mefor Ndidi Pat (Rivers State Television), Obi Stella Ugbochi (National Light Newspaper), Onyike Abia (Daily Sentinel Online), Adamu Ibrahim Dabo (Borno State Radio Corporation), Raliat Yusuf (Leadership Newspaper), Oyetunde Abimbola (Radio Nigeria), Hamza Jawice Sadiya (NAN), Osewele Nathaniel (The Sun Newspaper), Oni Ademola Adesina (The Punch Newspaper), Affe Mudiaga (This Nigeria Newspaper), Ayoola Arowolo (ThisDay Newspaper), Agomuo Zebulon Chinwendu (Business Day Media), Anuchia Chris (The Statesman Newspaper), Ijeoma Uche Chris (Hallmark Newspaper), Kingsley Uranta (Channels TV), Ighomwenghian Kingsley (Independent Newspaper), Uket Oka Ibor (Cross River Newspaper Corporation).
Also inducted are Ben Tope Adeboboye (Sun Newspaper), Okeke Zandas (Toast FM, Owerri), Nwobodo Onyekwere (People and Politics), Osim Veronica 9Ebonyi State Newspaper Publishing Company), Igiri Richard (Niger Delta Newspaper), Bassey Udo (Mediatracnet Nigeria), Wilson Dew Jemima (Mega FM 89.1 Warri), Nuruddeen Muhammad Abdallah (21st Century Chronicle), Okpalaeze Ndubuisi (Anambra Broadcasting Corporation), Agbaegbu Tobais Akobundu (Verbatim News Network), Bayo Awosemo (Arise TV) and Abdulateef Abubakar.
The night before (on Thursday) at a dinner hosted at the State Government House by the State Governor, Pastor Umo Eno, fourteen new Fellows of the NGE were inducted.
The event was witnessed by journalism greats and patrons of the Guild, to wit: Mr Sam Amuka (Publisher of Vanguard newspaper) and Aremo Olusegun Osoba (a former Editor of Daily Times and one-time governor of Ogun State).
The new Fellows are Martins Oloja (MD/Editor-in-Chief of The Guardian), Yusuf Ali (Managing Editor, The Nation Newspaper), Imoni Mac Amarere (Managing Director, AIT/Ray Power Academy), Mr Tunji Bello (Former SSG, Lagos State), Hajia Maimuna Garba (GM Multi-Channels), Ambrose Okoh (Controller of Programmes, Channels TV), Celestine Ogolo (Ex-Editor, The Tide Newspaper), Austeen Elewodalu (Director of News, Voice of Nigeria) Mustapha Isa (Foremr President, Nigerian Guild of Editors), Chuka Nnbuife (Former Md/Editor-in-Chief, National Light), Hon Chuks Ugwoke (Ex-Editor, Saturday Vanguard), Sani Mohammed Suleiman (Former Director of News, FRCN), Agusiobo Victor Chuma (Former Editor, National Light Newspaper) and Samuel Egbala Egbe (Permanent Secretary, Ministry of Information, Cross River State).
The induction of new members on Friday night at Havillah Hotel in Uyo was presided over by another journalism great, Mr Ray Ekpu, assisted on the high table by a former President of the NGE, Mr Gbenga Adefaye, Managing Director of THISDAY newspaper, Mr Eniola Bello, a former Editor of Vangaurd newspaper, author, lawyer and activist, Mr Richard Akinnola and the incumbent President of the NGE and Editor of Vanguard Newspaper, Mr Eze Anaba.
Both Ekpu and Anaba who addressed the gathering including the newly -inducted members tasked them to deploy their wealth of experience in activities that enhance the growth and development of the Guild in particular and the journalism profession in general.
They charged them to be conscientious in the discharge of their functions as gatekeepers to ensure public confidence in the Guild.
In his welcome address at the start of the NGE confab, the President of the Guild, Mr Anaba said the annual conference was the largest forum of editors in Nigeria, "where we take on various important and topical issues, discuss them, and propose recommendations for the way forward."
According to him, "This exercise is an essential part of our contributions to the growth and development of not just the media industry but our beloved country in general."
Anaba said that the annual confab was a forum that attracted the brightest minds in different fields of human endeavour as speakers. Discussants and special guests, and which had over the years, been a veritable tool, in setting agenda. And expanding the frontiers of the rule of law, human right, good governance and development.
He said a matter for concern to many in the nation today was the state of the Nigerian economy, adding that the economy was in dire straits even as the new administration continued to grapple with the situation while pushing out policies for a turnaround.
"The present economic environment is leaving millions of Nigerians in poverty. A recent report by the National Bureau for Statistics (NBS) shows damning revelations that some 133 million Nigerians are multi-dimensionally poor.
"All hands must, therefore, be on deck in the task of reversing the disturbing trend and improving the economic situation and the well-being of millions of Nigerians living below the poverty line across the country," he said.
The confab witnessed a number of activities, including the launch of the NGE Editors Trust Fund, which Anaba said was in fulfilment of the promise that he made during the electioneering preceding the last biennial election of the Guild.
He said the Trust Fund aimed to empower editors and other journalists through supporting and providing legal and general support to members.