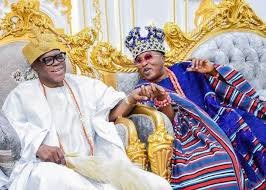 The people of Ibadanland, Obas, Chiefs, Baales, and Mogaji's in Ibadanland has said Ogburo, a boundary community between Iwo and Oyo State can only have one monarch which was the one currently installed by the Olubadan of Ibadanland, Oba Lekan Balogun, warning those behind installation of another one to desist.
They warned those causing crisis at Ogburo community, Odo-Oba to desist, saying the community belong to Ibadanland and not Iwo in Osun State.
They stated that the community can only have one monarch, which is the Ologburo of Ogburo, His Royal Highness, Oba Victor Oyedepo Olabamji recently installed by the Olubadan of Ibadanland, HIM, Oba Mohood Olalekan Ishola Balogun, Alli Okunmade ll, saying any other monarch aside that is none and void.
According to them, Ibadanland owned Ogburo community from time immemorial, adding that all the past Oluwos of Iwo are aware of the fact that the community falls within Ibadan area.
A statement jointly signed by the President and the Coordinator, Ibadan Peace Initiative, Barr Chief Niyi Ajewole and Mogaji Nurudeen Akinade respective called on stakeholders in Ibadanland, Oyo State and Nigeria to intervene before the issue generate to crisis.
The statement alleged that despite the fact that the matter is currently with the National Boundary Commission, Iwo people has never desist from advancing towards Ibadan.
The statement reads, "It has come to our notice that the Ologburo recently installed by Olubadan can not go to his community over fear of attack, intimidation and harassment by thugs in the community and alleged involvement of Oluwo of Iwo."
"Ologburo of Ogburo, HRH, Oba Victor Oyedepo Olabamji was one of the recently coronated Oba's by the Olubadan of Ibadanland, Oba Mohood Olalekan Ishola Balogun, Alli Okunmade ll following the process generated by the administration of late Governor Abiola Ajimobi, which was also restructured, reconfirmed, and approved by Governor Seyi Makinde."
"Odo Oba is natural a boundary between Oyo and Osun State, the river flows from Asejire through Odo Oba, which was recognised as a common boundary between Oyo and Osun State without any forms crises, wondere on their refusal to accept this at Odo Oba axis, but Oluwo is allegedly taking advantage of hospitality of Ibadan by shifting the boundary from Odo-Oba to inside Ogburo."
"Ogburo belongs to Ibadanland from time immemorial, all the past Oluwo also know this, but the current Oluwo is promoting another Ologburo and trespassing to Ibadanland."