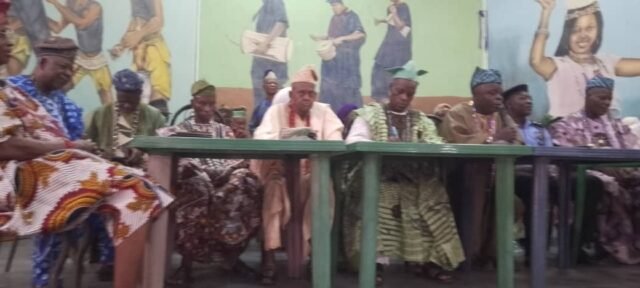 Worried by reports of ritual killings and other criminal activities in Apete, Awotan and its environs, two monarchs, the Alapete of Apete, Oba Raimi Bolarinwa-Idowu and Alawotan of Awotan Oba Adebayo Omotoso have organized a stakeholders meeting to brainstorm and find lasting solutions to security challenges affecting their domains.
At the meeting held at the D Aces Hotel, Akere-Awotan, Ibadan, stakeholders suggested continuous all inclusive stakeholders' engagement, exposure of criminal activities and records as well as security consciousness on the parts of parents and landlords have been identified as panacea to incessant ritual killings in the areas.
The stakeholders including residents, security agents, community and religious leaders also recommended thorough screening of appointees for leadership positions, setting up of committee to follow up on the recent suspected ritualists, collaboration with security agencies and intelligence sharing to put an end to the menace of killings in the society.
In a remark, the Alapete of Apete, Oba Raimi Bolarinwa-Idowu, who condemned the recent killing of a middle-aged man by the three suspected ritualists in Ibadan, cautioned residents against acts that could tarnish the good reputation of Apete which is a home to The Polytechnic, Ibadan.
In the same vein, the Alawotan of Awotan, Oba Adebayo Omotoso, who pointed out that killing of an innocent soul was a destruction of a lineage, called on religious leaders to adhere to the injunctions of scriptures and contribute their quota towards finding lasting solution to the killings.
The Chief Imam of Apete Central mosque, Sheikh Abdurahman Muhammadul- awal challenged clergymen on soul searching and preaching against killings.
The Chief Imam of Awotan Central mosque, Sheikh Abdullai Adesina, while leading a prayer session for exposure of other ritualists, warned people against rumour mongering, stressing his commitment to efforts to fish out evil doers.
The Chief Imam of Orisun, Alhaji Taiwo Oseni called on security agents to do thorough investigation on the matter, as he claimed one of the three suspected ritualists had access to his phone to threaten some residents in his domain.
The chairman, Muslim Community, Apete, Awotan, Ayegun and its environs, Alhaji Abdulwaheed Amoo advised clerics not to appoint those who signify interest to become religious leaders, stressing that review of antecedents and report of suspicious situation were key to end the killings.
It would be recalled that three men Taofeeq Olalekan, aka Kabeloun, 46years old, Ramon Opeyemi, aka Alubarika, 47 years old and Taiwo Akinrinola, 37 years old were arrested on the 16th of this month around Agbarigo, Ibadan by policemen on stop and search operation for allegedly being in possession of human body parts, which they confessed to being items used for ritual purposes.