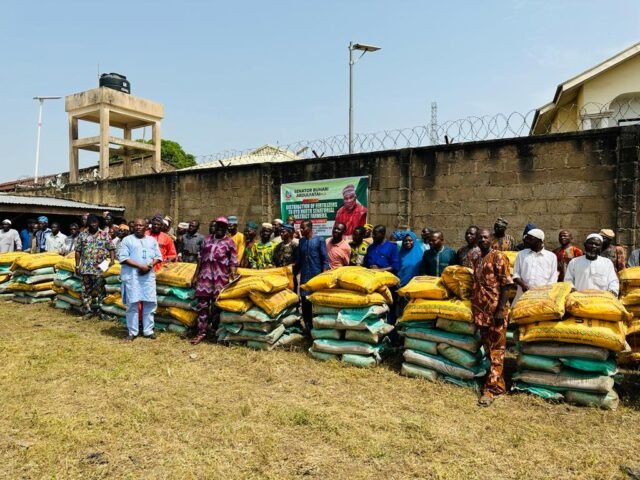 The Senator representing the good people of Oyo North Senatorial District, Dr. Buhari Abdulfatai has empowered another set of 100 farmers.
The event held today at Isale High School, Ogbomoso/Oyo Road, Ogbomoso, had the 100 beneficiaries carefully selected across the 13 local government areas that made up of Oyo North.
Speaking on behalf of Senator Buhari at the occasion, a Chieftain of All Progressives Congress (APC) and Former Commissioner for Works, Oyo State, Alhaji Wasiu Dauda a.k.a. Asusu rejoiced with the farmers as he charged them to make best use of the privilege given to them by the lawmaker.
In the words of Alhaji Asusu, farming has become a lucrative venture that has made many hopeless people become prominent personalities not only in Africa but also in the developed world.
While presenting two bags of NPK Fertilizer and a bag of Urea to each of the 100 farmers, Alhaji Asusu enjoined the beneficiaries not to sell the items but use them to improve their production output.
Alhaji Asusu hinted "Make us proud, make Distinguished Senator proud of you by making best use of all these items. Don't sell it for immediate coins that cannot sustain you but use it for the sincere increase in the Gross Domestic Products of the country".
It shall be recalled that in an interval of a week since October, Senator Buhari had empowered 100 farmers at Saki, another 150 Women on Enterprenuership training at Iseyin and also a total of 50 Youths were trained on small and medium scale enterprises at Ogbomoso with each of the beneficiaries went home with a cash of N50,000 among other emoluments.