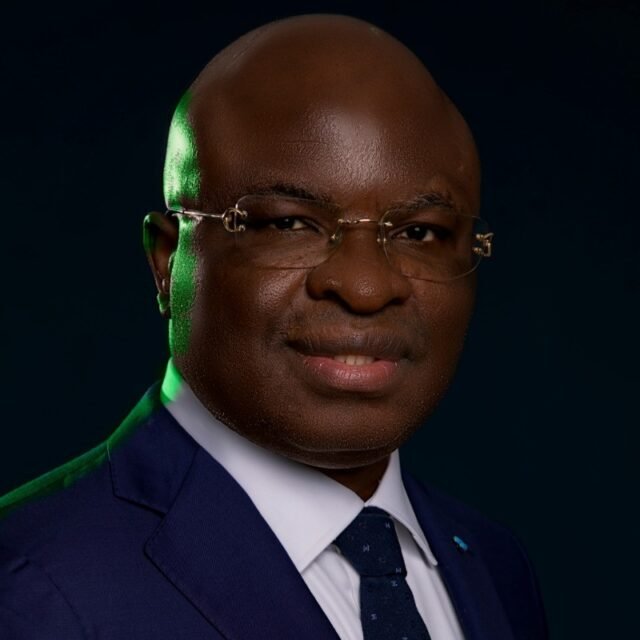 Over past two years, Keystone Bank has been more visible than ever before in the media with its advertorials and news of its positive developments in terms of quality customer services, offering banking services to large corporations, public institutions, small to medium enterprises and individuals. The bank which was created on August 5, 2011 by taking over all the assets (including subsidiaries and liabilities) of the now defunct Bank PHB is indeed making waves in the sector on account of its creativity and dynamism.
The perception and the direction of attention people used to give the bank has changed. The bank is fast becoming one of the large financial service providers in the country. However, this feat may not be unconnected with the initiatives of the Managing Director and Chief Executive Officer, Mr. Olaniran Olayinnka and his management team over three years ago.
Olayinka became Keystone Bank Managing Director in 2020, working like a Trojan in order to reposition the bank with a view to giving the bank a competitive cutting edge.
​ But who is Olaniran Olayinka? With a First Class Bachelor's degree in Economics from the prestigious University of Lagos (Unilag) in 1988 and a Master's degree from the same university in 1990, coupled with numerous training and capacity developments across the world, Olayinka is one of the best of our brightest minds in the banking industry in Nigeria today. A fine gentleman with an imposing physique and charming carriage, this master strategist extraordinaire is not only meticulous but methodical with a bonhomie attitude.
​
His default behaviour is that of mutual respect, tact and calmness, always following the routes of reasons and rationality in his management style. With an upbringing cemented by sound family values, uncompromised religious doctrines, solid educational background and constant personal development, it couldn't have taken much to infer that he would go far in life.
​
However, there is a challenge here! Despite his intimidating resume and "Omoluwabi" posturing, this icon of financial sector hates publicity. It is either he is self-effacing or he simply does not like the razzmatazz of the media which many people crave for. While packaging this tribute, I goggled several platforms with a view to getting his past interviews by Nigeria press – all to no avail. When he was appointed in 2020, I asked him to talk about his vision for the bank, he politely declined, saying the time has not come.
Observing my closeness to him, an association through me wanted to give him an award on account of his achievements, he politely declined. Hear him, "As you have rightly observed, I am a very private person who is primarily focused on delivering values to my stakeholders .While appreciating you for deeming it fit to recommend me for an award, I am one person that shy away from such because awards add nothing to my status and standing in the society"
Three years after his appointment, Mr. Olayinka has remained taciturn, focusing primarily on his assignment, working assiduously and recording successes. The reason for writing this unsolicited tribute in his honour however is to celebrate him on his birthday which is on November 14.
​
But how can a man be working silently and recording successes without blowing his own trumpet? That is the Keystone Bank MD for you! He has been leading the bank without backward glances. Matter of factly speaking, this MD who combines amazing technical brilliance with incredible strategic savvy is taking Keystone Bank on a journey of genuine growth and self-improvement. Staff members of the bank confided in this writer that since Mr. Olayinka's appointment, "our MD has been taking the bank to monumental and historical levels that are of immense benefits and significance"
​
In life, there are some instances of human apotheosis, pedigree and iconic antecedents that must be showcased for motivation and imitation for the coming generation. Such is the case of Mr. Olaniran Olayinka who has exercised executive power with near – absolute magisterial certainty. The story of this man is a story of achievements, courage, dedication and commitment. He has a reputation for incisive analysis backed by electrifying brain power.
​
Since his appointment, he has demonstrated leadership in an amazing manner. Leadership in this context is his strength of mind, self confidence, far sightedness and good judgment. Obviously, he is a gifted leader. A gifted leader can see what others cannot see. And because he can hear a distant drum, so, his dance steps are usually different from others, hence he is often misunderstood by the followers. Olayinka, (like his elder brother, the 12th Vice Chancelor of University of Ibadan (UI), Prof. Abel Idowu Olayinka), is a humble leader who is neither paranoid nor seeks unnecessary self-promotion. He is not bothered by any kind of complex: inferior or superior. He does not feel threatened by anybody.
​
Displaying humble mien and imperturbable equanimity of the quintessential technocrat, this master of an art of tact is generally accepted and respected within the ranks and files of bankers in the country. He is morally sound and highly hospitable. He is a very painstaking person, just as he is dutiful and dedicated. Call him a man of zeal and zest, you may be absolutely right. Indeed, he could be described as a quintessential gentleman who is affectionate and generous, friendly and fearless fellow.
​
Like Barnabas in the Bible who stands up for friends in joy, thick and thin, Olayinka is ever ready to assist the needy whenever the need arises. To be precise, he has been too far kind to many people around him. For instance, like many other people, I have been a recipient of his generosity over the years. Surprisingly, each time I request his help, he does it in excess of my expectation. As a side note, he is a man who offers strength in distress.
​
The point cannot be overstated that it is better to celebrate a person when he is alive than to praise him posthumously. We should therefore not hesitate in celebrating the best among us. By all standards, Niran Olayinka belongs to the bracket of the best among men. No one is celebrating him because of the virtue of the office he occupies, but he is being celebrated because of the virtues he brings to the office. As earlier stated, the essense of celebrating the best is to showcase them as quintessential models to the coming generations.
For this Keystone Bank MD, everyone who knows him finds his presence infectious, reassuring and easy to sustain true friendship. He is a perfect gentleman with all the trappings and sensibilities of cosmopolitan technocrat. You will feel the imprimatur of his positive vibes as well as scent of his smiles. He dots on his family members with profound kindness. It is all filial affection in its finest form. He has worn his vocational garment with qusto and grace and it fits him snugly. This pathfinder of the towering height with a heart of gold is, to me, a lighthouse in the storm.
​ Amazingly, he easily forgives the foibles of his friends, fiends and foes, offering them unmerited love and support in trying times, touching every life with a love unfeigned. As Mr. Olayinka marks his birthday on November 14, let us play the flute of felicity for him for he is a melody.
​
Let us celebrate the man with rich repertoire of financial knowledge and native intelligence. Can we all roll out red carpet in honour of a treasured heirloom? Dear MD, as you mark your born day, may God continue to shine light in your dark skies. A happy birthday, sir, an exceptional brother of uncommon standing.
Saanu (08034073427) is with Ajayi Crowther University, Oyo on sabbatical.